Alabama and Mississippi Engineering Societies
Over Memorial Day 2017, members of the PowerCalc team were with colleagues at the joint meeting of the Engineering Societies of Alabama and Mississippi in Orange Beach, AL.
We had a lot to say and demonstrate.
Place: Alabama and Mississippi Engineering Societies
Date: May 27, 2017
Title: Vu Déjà - Disruption: Designing the Power Distribution System in the Cloud
Speaker: June Adams, CEO
Demonstrator: James Khalil PE, President
It's a thrill to be here today and share with you our journey as consulting engineers who have entered the world of software.
Last November, we graduated from Florida Atlantic University's accelerator program for startups. Then last December, we launched our new product PowerCalc in the Cloud. It's a whole new world, and hopefully you will find our story interesting.
I'm going to start out with what is called an "Elevator Speech" to give you a flavor of the startup world and what PowerCalc is all about.
Every day thousands of engineers face the labor intensive work of creating electrical specifications for all types of buildings. It takes thousands of calculations.
The problem is that people in the construction industry need a product to improve efficiency and accuracy, but none exists. AutoDesk can't do it. Nor does any other automation tool.
But PowerCalc solves the problem with just 3 easy inputs per circuit. An engineer can now automatically calculate the entire power distribution system for any construction project. That's from the light switch to the power grid in any building. And all in compliance with building code requirements. And updates for construction changes are instantaneous.
PowerCalc saves days of engineering man hours and millions of dollars for both the engineering firm and the developer. It avoids the problem of "overbuilding" saving the developer time and money and also "underbuilding" so there are no fires or other safety issues.
Our software is the first in the cloud so that your team can collaborate and work as a team, and also have access to PowerCalc in both the office and field.
Our goal is to expand our customer base and make PowerCalc the standard in the construction, building and facility management industries. PowerCalc is the optimum electrical solution for your building.
Back in 2002, the inventor, James Khalil was setting up his own MEP consulting firm. He had just left life as a Vice President and Department Head at CH2M, and actually found a similar challenge. How was he going to get the electrical engineering design of the power distribution system done accurately, efficiently and in compliance with the NEC?
At CH2M, the problem was how to check all the work being produced by so many engineers. At his new company, International Consulting Engineers (ICE), the issue was how to get the work done efficiently and accurately to meet deadlines with far fewer engineers. The answer to both concerns was his invention called PowerCalc which was patented in 2010.
Now, in getting the patent, we went through a process of reviewing "Prior Art". That is a review of everything else in the world to determine whether your work is original and patentable. This review confirmed the inventor's thoughts:
No other electrical engineering software was written by a professional engineer in consulting.
Other softwares mirrored the design of software for electrical systems in the power grid…from the top (or the power source) down to the bottom (service entrance of the facility).
The problem with this approach for electrical engineering software in the facility was the key.
Other softwares require an estimate of what the total electrical load in kVA is for a facility at the start of a project and then works down (so a top-down approach). This approach ends up causing all sorts of design errors…a typical example: a wing is deleted from a design for a hospital and the total electrical load is not adjusted. This mistake may seem fundamental, but it happens every day.
So, what was new about PowerCalc? It was Vu Déjà… looking at what you do every day and "seeing" it for the first time.
The design is from the bottom-up. That means from the circuit to the service entrance. The total electrical load is always correct because it reflects the actual power loads specified for the facility.
The design process is simple: just 3 inputs per circuit: load kVA, load type and number of poles.
The NEC's lookup tables are integrated and completely populated.
This bottom up design allows for something really exciting to happen. Any changes in the electrical design are instantaneous.
Frankly, PowerCalc's ability to implement instantaneous changes is one of the key points in our patent. Because the power distribution system has been designed circuit-by-circuit, now a change anywhere on the system will instantly update all values upstream and downstream across the design.
And our consulting firm, International Consulting Engineers (ICE), as well as several other leading engineering firms in South Florida have been the testing ground for PowerCalc. To date, PowerCalc has designed hundreds of projects, easily valued over $1 billion in construction costs.
As a result of our experience, we can personally testify to several observations about PowerCalc:
At least 40% saved in design time. This reduction in design time allowed the small consulting firm of ICE to not only compete with the "big guys", but to be sought out for peer reviews to correct the big guys' mistakes.
Not a single lawsuit.
A superior product with no claims to correct errors and omissions in any construction project.
Far fewer comments from the building department. In fact, we have more comments about spelling errors than anything else.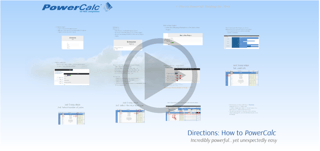 So, after all of this development and testing, we went on to launch PowerCalc in the Cloud to the whole world last December.
We are the first electrical engineering software on a cloud platform, and we are releasing the 1st ever automatic and graphic 1 Line Diagram next month. Our 1 Line will be simultaneously generated and readily available to view throughout the design process…a great visual aid.